In a few posts I've made mention of the incredible Kim Brown, but nothing more. Well let me tell you about this girl. Kim lives in Utah with her husband Lee and their three beautiful daughters, Hillary, Madison and Grace. I met Kim through my August dtc group, as her family is also in the process of adopting a daughter from China and her name will be Pearl. I was the organizer of the August dtc secret pal swap and one day out of the blue a package arrived from Kim, thanking me for organizing the swap. The package contained a beautiful
ladybug lanyard
to hold my scissors when I sew or for when I was supposed to be working on Baby S's 100 Good Wishes Quilt.
She and I then started chatting back and forth through emails and she told me that she was making, as a gift for her secret pal, an 100 Good Wishes Quilt. Kim sent me a picture of her creation and it was absolutely beautiful! I told her that even though I had taken quilting lessons, there was no way I was going to be able to make Baby S's quilt. She then offered to make the quilt for us if I was interested. She does such beautiful work, I had to say yes please!! So off to Utah I sent a package containing 100 quilt squares along with a white on white fabric for the sashing and some super soft Minkee for the boarder. I loved the fabric that Kim had used on her pal's quilt and luckily she was able to get more of it so that it could also be used on the back of Baby S's quilt.
A couple of weeks ago a huge package, decorated with ladybugs, was delivered to my front door and it was from Kim and family. When I first opened the package, there were beautiful scrap book pages from Kim and the girls, they were all so sweet and the wish from Hillary made me cry. In the bottom of the box were five books for Baby S and one of them,
A Quilt of Wishes
, is even signed by the author.
(Click on images to enlarge)
I then opened up the quilt,
(even though I can't seem to get a good picture)
and I saw the most beautiful quilt in the world and I was overwhelmed! I look at the different squares and I think of the person who sent it and their wish for Baby S. I see how beautiful the overall quilt is and the detail work that went into it and I'm so grateful for the work, time, effort and love that Kim put into making this quilt.
(Click on images to enlarge)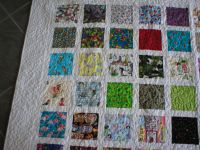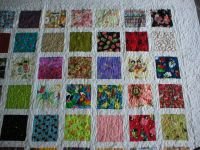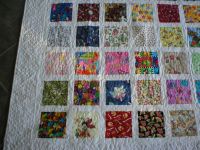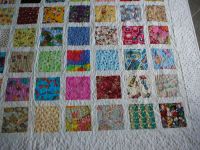 In just a few short weeks I'll be traveling to Utah where I'll meet in person, for the first time, Kim and her family. I'm so excited to meet them all, I don't even have the words to express my feelings. Even though we live on opposite sides of the country, our families will always be connected in a big part because of Kim's generosity in making such a beautiful treasure for not only Baby S, but also for our family. Thanks Kim Brown, once again, you rock!!!
A big thank you to everyone who sent fabric and beautiful wishes for Baby S. We received just shy of 200 wishes and pieces of fabric, all of which will be going into Baby S's 100 Good Wishes Book. I look forward to the day when we'll be able to sit with Baby S, share all the good wishes with her and match the quilt squares to the wishes. Thank you!