That's how I feel about buying a new purse. I need a purse that's fun, not too big, not too small. Something that can go with any outfit (not that I change purses or outfits if they don't match) just something that reflects my personality.
I've been carrying my favorite monkey purse on and off for about three years and it's just time for something new. I have a whole list of criteria, but two of the biggest are, it can't be too expensive and it definitely can't be advertising the designer's name or initials. If designers or companies want me to advertise for them, let them pay me to carry their purse!
So today after much searching and debating, I did end up purchasing two bags. I'm not sure if I'm going to keep either of these or maybe I'll keep both...still to be decided. Pictured are my purchases for your viewing pleasure and your critique. What do these bags say to you and what personality do they reflect?
One purchase that I will be keeping is the
Mamas and Papas
Giant Activity Toy,
Lotty Ladybird
. I got it for a steal at T. J. Maxx, mark down on top of mark down on top of mark down!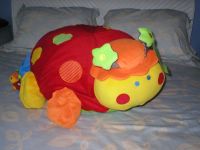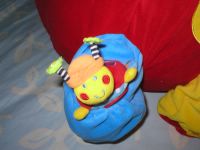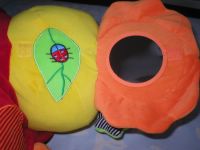 This baby is huge, it is pictured on a queen size bed! It has so many different textures, patterns and colors, I'm enjoying playing with it. Each leg makes crinkle sounds, one of the spots flips open to reveal a baby safe mirror and the hat flips forward to reveal a large mirror and a cute ladybug and leaf applique. The flowers on the antennae squeak and rattle. I also love the mini ladybug rattle, with a mirror on the tummy, it hides in one of the big ladybug's legs.