On Monday my friend
Tiffany
received her travel approval and I called to congratulate her. As usual with the time zone difference and the fact that Eammon and I tend to go to bed probably about the time she gets in after work and dinner, our game of phone tag continued. Well last night she called early enough that I was not yet in bed and before her dinner plans so we actually got to chat. I found out that not only has she received her travel approval (TA) but also has her consulate appointment and her travel dates!! We also talked about how referrals come out shortly after TAs and she told me that there's a rumor that referrals will be out either the end of this week or early next!! I was so happy talking with her and so excited too because if the rumors are true, Eammon and I will be looking at a picture of Baby S in less than a week!!!!!
When we missed the last cut off by
one stinking day
, I thought that I'd be upset or really antsy this month but I've been surprisingly calm. I've started making our packing list and have been shopping for travel meds and necessities but not really even thinking about referrals other than in passing. But when I got into bed and tried to sleep last night, it hit me that in probably less than seven days I'd be a Mom! All I could do is lay in bed smiling and giggling. Wow, its been 619 days since we officially started this adoption process, is our time really that close and could this be real?
Today when I logged on to my email, I had about two dozen messages from people telling me of this new rumor and getting excited for us. This is so fun and I love how many people have joined us in our journey to Baby S and are sharing this up and down roller coaster experience with us.
Now as a teaser. A while back I ordered letters to hang in the nursery spelling out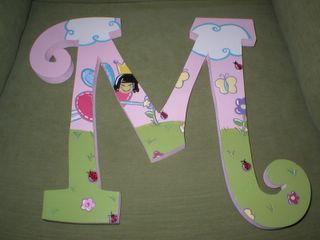 Baby S's name. I'd love to show you all of the beautiful letters, but alas that won't happen until we get our referral. So for your enjoyment, here's the first letter of her name beautifully hand painted (not by me!) and ready to be hung. Maybe today after I finish the last bit of necessity shopping I'll actually pull out the ladder and get her name up on the wall!
Holy moly, we're next and it's happening soon!!