This morning in
Atlanta
, Eammon, along with 204 other people, from a total of 66 different countries, took their
Oath of Allegiance
and became U. S. Citizens.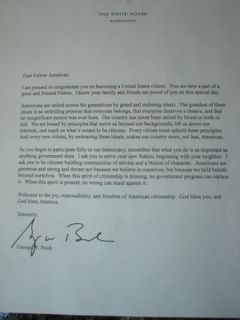 The ceremony was very touching and as I listened, I felt happy and proud that so many people chose to become U.S. citizens. I realized as each name was called and Certificate of Naturalization presented, that for some, becoming a U.S. citizen won't change their lives dramatically, but for others the impact on their lives and the lives of their family is huge. I felt somewhat sad hearing the names of the countries and knowing that for some, the conditions and/or politics of their homeland forced them to leave everything and everyone they knew behind and that they may never see their county of birth again.
So of course all of this got me thinking of our daughter and what her future holds. We feel strongly that our daughter will first and foremost be an American. We'll expose her to the culture and traditions of her birth country and will help foster a sense of pride in her Chinese heritage, but we won't force her to be involved in Chinese language, dance or other classes unless she has the interest and desire. I hope that she grows up proud to be an American, proud to be of Chinese descent and I hope that someday she will chose to travel around China and learn of her birthplace. Overall, I hope that our daughter grows up proud of who she is and happy to live in the U.S., a country which truly is a melting pot of people from diverse backgrounds, cultures and origins.